a beautiful way to take food with you. from healthy granola in the morning to an afternoon salad, byta bites is made to maintain the temperature of your food for longer, hot or cold.
double wall, vacuum sealed to prevent sweating. each byta food storage container is bpa-free and toxin free. holds 14oz / 414ml and includes a microwavable, shatter proof inner.
byta x Doug Argue
a limited edition collaboration
Doug Argue, a New York-based artist and friend, is known for his colorful and immersive pieces. With our exclusive collection, we hope you enjoy his art as much as we do.
take your lunch with you in a beautiful way
byta impact.
by choosing byta, you're choosing to help rid the world of the 500 billion disposable cups produced every year and 1 million disposable cups that end up in landfills every minute.
more than
14,500,000
cups + bottles saved
Customer Reviews
Write a Review
Ask a Question
Filter Reviews:
lunch
bite
sizing
research
soup
discount code
bullet
usage
container
food
05/09/2020
Mallory G.
United States
So excited for this!
Amazing! The size is perfect
05/07/2020
Gen .
Trinidad & Tobago
loved it in totality eventually!
So my loves about this product: i absolutely love the look! My not so immediate loves: initially i was surprised by size of the whole container & the size of the actual food container. I was also surprised by the weight. However after remembering the fact that it is double wall vacuumed sealed it makes sense that it would be a tad weighty. That's a fair trade off I think. I love that i can have my home cooked meal on the go & still hot when I'm ready to eat. Concerning the actual size of the food container, after really looking at it, it can be considered a decent portion size. Meaning you would be able to fit some greens, protein & carbs in there for a nice balanced meal. So overall I'm happy with my purchase!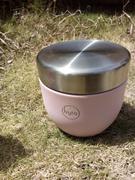 05/02/2020
Stefanie W.
United States
Size Matters!
I was pleasantly surprised to see how big the Byta Bite actually is! It definitely holds a lot more than just a bite! I love the shape and design and that the inside lid is magnetic! Can't wait for quarantine to be over so i can bring my lunch to work in this!!
04/30/2020
Susan O.
United States
Neat container
Easy to open and decent size. I use the plastic cup on its own quite often. The only reason I dropped a star is because it's a bit heavy without anything in it. Would be ideal if it was lighter.
04/30/2020
Jamie E.
United States
Thank you!
Super! Love the bowl!
item added to your cart